5 Tips to Avoid that Thanksgiving Hangover + Turkey Coma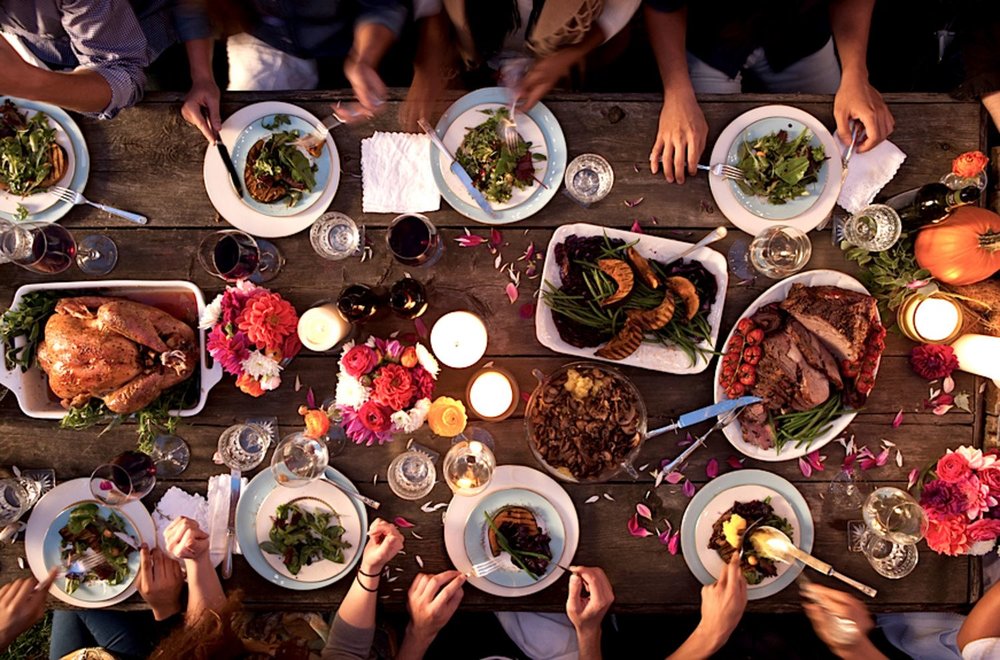 Between the amazing craft beer & cocktail selection and the 10,000 calorie plates laced with tryptophan, you will look like a mess if you don't take some necessary precautions.  So in the spirit of Thanksgiving, we wanted to share these 5 tips to help you avoid  that Thanksgiving hangover and turkey coma. :)
#1 EAT BREAKFAST!
You might think that forgoing breakfast or lunch is a great way to save room for your big feast, but that might not be the best strategy. "It's a big mistake to fast before a big meal at a party, or at Thanksgiving dinner," says Katherine Tallmadge, a registered dietitian and op-ed contributor to LiveScience. "When people skip meals, they end up feeling so hungry by dinnertime that they overeat." It's true that at Thanksgiving dinner, most people will eat more than they would on a normal day, Tallmadge says. But by eating a regular breakfast and lunch, you'll likely eat less calories overall than you would if you skipped the meals.
#2 HYDRATE & PACE
Let's be honest, a day with family can feel like a marathon. Treat it like one by hydrating early and often. Start your day off right by drinking lots of water, and save those holiday cocktails until at least mid-afternoon.  Many of your favorite foods on Thanksgiving are also high in sodium, so staying hydrated will keep you energized while also keeping your appetite in check.
#3 APPRECIATE THE CRAFT
Try purchasing some Tasting Glasses (3-5 oz) and share a variety of craft beer/cocktail selections with your family. Bring drink profiles for each selection and help your family identify the undertones and aromas. Make sure to have a selection of craft root beer or craft soda for your non-drinking friends and those under 21. This is also a great opportunity to share the importance of waiting until 21 and talk about what a healthy (vs. unhealthy) relationship with alcohol looks like. #betterdrinkingculture
# 4 PRIME YOUR BODY (pushup challenge?)
When planning to feast, there's a little secret in helping your body better metabolize all that goodness. Working out an hour or two before a big meal can help override fat storage. This can be something as simple as doing a set of pushups, pull-ups, or leg-squats.  That way, your muscles will be primed to take advantage of all that food you are going to eat, sending it directly to your muscles for repair and growth. Your blood sugar levels will also be more stable, meaning you'll feel better the next day! More great tips on this research here.
# 5 EAT & DRINK A LITTLE LESS
At the end of the day, it's your decision as to how much you want to eat and drink. Choosing to eat and drink a little less will bring you much more holiday joy than you might think.
Cheers!
---
ABOUT US
Better Drinking Culture ("BDC" for short) is a grassroots movement of people promoting a healthier relationship with alcohol. Founded in 2015 by a group of friends in West Michigan, BDC has quickly grown as a platform for connecting like-minded individuals with a desire to promote a healthier lifestyle around drinking. Its goal is to educate and empower others to drink better and healthier, with a focus on bringing this message to college students. To learn more about BDC's initiatives, please visit BetterDrinkingCulture.org or find them on social media @betterdrinkingculture.