Grab a drink with Kris Spaulding - Co-founder of Brewery Vivant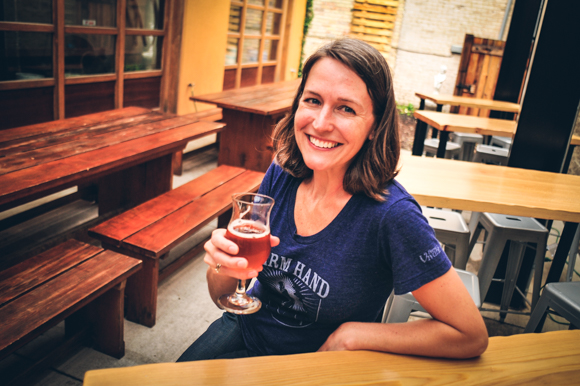 EMPOWERING US TO "BEER THE CHANGE"
Kris Spaulding
Co-Founder of Brewery Vivant
Grand Rapids, Michigan
Celebrated as the first LEED certified micro brewery in the country, Kris Spaulding and her husband Jason built Brewery Vivant as one of the most recognized breweries in Michigan. Revered for their authentic quality, sustainability, and community leadership, Kris and the Vivant team show us what it's like to "beer the change" and be a model for good! Join us as we grab a drink with Kris and learn to live the Bon Vivant! 
So Kris, what's your favorite thing to drink!?
Beer of course! I usually drink IPA's or sours. But I also love a good glass of dry bubbly, I would never turn down a glass of Veuve Clicquot! I also drink a ton of water and always have some sparkling water in the fridge.
Do you have a favorite memory that is forever tied to a specific drink?
Jason and I went to Italy on our honeymoon and spent a few days in Tuscany. We had a great bottle of local wine while dining in San Gimignano and searched it out the next day. We ended up stopping at a tiny B&B in the middle of vineyards and had a long, amazing lunch while sitting on the patio watching tiny lizards dart in and out. 12 years later we still have the label from the wine we drank during that lunch and we hope to go back and stay at the B&B. 
What are some ways you maintain a healthy BDC lifestyle?
I think life is all about finding that right balance for yourself and keeping to the good things, or as we say at BV, living the Bon Vivant! I almost always cook from scratch with whole foods and I love to be outside running, walking or meandering with the kids, or just sitting down enjoying the natural beauty that surrounds us all.
What's one thing you couldn't live without?
The rippling giggles of my children, my husband who makes me a better person in so many ways, a bit of solitude on a regular basis, and the natural world.
I can imagine running a micro-brewery and a family can be a ton of work! If you had no obligations, how would you spend a day-off?
I can't imagine a day like this at this point in my life! I would probably divide that day between reading a book, going for a run or hike, gardening, and making a really good meal.
When do you find to be your most favorite time to drink?
I love a drink with dinner. I find that when my husband and I have one we end up staying at the dinner table a little longer and enjoying each other's company in a more social way which is a challenge since we own our business together and have young kids. That simple socializing is so important in keeping us connected the way that we were when we first started dating and didn't have so many shared (though amazing!) obligations.
What are some of your personal drinking habits or guidelines you live by or try to live by?
My goal is to never drink more than one an hour with a 3 drink maximum, ideally having at least one glass of water per alcoholic beverage. Having two small kids makes this a pretty easy goal to accomplish since a hangover is not an option.
If you could leave behind some truths of life as your legacy, what would they be?
Years ago my husband and I defined the principles we wanted to live by, there are 5 of them that we try to hold ourselves accountable to in our life together and as individuals:
1. Minimalism
2. Responsibility
3. Health
4. Integrity
5. Mindfulness
What's something you love about the city where you live?
I love that Grand Rapids is both a small city and a large town all at the same time. We are so fortunate to have such a focus on and accessibility to arts and culture and local food & drink. I love that my home is in the city but has a real yard and that I have the ability to walk, bike or drive to just about anywhere I want to go. 
Any good books you're reading right now?
I'm reading A History of the World in 6 Glasses. It's a pretty cool book about how 6 different drinks have each impacted world history in such a large way. I definitely recommend it!
Where can people learn more about you?
I'm not big on social media personally, but here's our Vivant stuff:
http://www.breweryvivant.com
https://www.facebook.com/breweryvivant/
https://www.instagram.com/breweryvivant/
And last but not least, why do you choose to live and support the BDC? 
A Better Drinking Culture is one that incorporates my philosophy of everything in moderation, while also celebrating the enjoyment of food and drink!
---
We're looking to highlight awesome people in our "Grab A Drink" series. Maybe our next interview will be with you! Hit us up at hello@betterdrinkingculture.org and give a short bio about who you are and why you live and support the BDC movement. Cheers!