Hydrate Better: 4 Ways to Make Water More Fun
Can you feel it? The anticipation? The excitement? The energy?
It's finally football season!
Tailgating. Watch parties. Snacks. Drinking games. It's back to one of my favorite times of the year.
As this season of cooler weather and long days of celebration returns, have you thought about how you'll stay hydrated?
I get it. Hydration isn't the most exciting topic. However, even when it's not 100 degrees outside, and you aren't spending your weekend by the lake or pool, drinking water is still essential.
Here's a set of tips to help you remember to drink that other stuff that comes out of the tap or bottle, and enjoy it.
Make your water taste better.
I'll be honest: I don't love the taste of water unless I'm overheating from the sun. And sometimes not even then. To stay hydrated, I have to put effort into making my water taste more desirable.
One of the easiest ways to improve the taste of your water is by using a filter or purifier. Tap water often has chlorine in it, which makes it taste less refreshing to some people. Buy a water filter for your sink or to keep in your fridge, and take away the excuse of it tasting icky.
You can also infuse your water with fruit or herbs. Adding a squeeze of lemon or some cucumber slices can make a world of difference. My current favorite is strawberry and basil. It's way better for you than sugar-heavy juice, but easier to pretend you're enjoying some!      
Reward yourself.
I used to put four rubber bracelets on my wrist in the morning because I found them extremely uncomfortable. After I'd finish a 16 oz bottle of water, I'd take a bracelet off and clip it onto my bottle. The faster I drank my water, the faster those things were off of me! If you don't have bracelets, rubber bands can work the same way—just slip them around your water bottle to keep track.
At a football game, consider treating yourself for every glass of water you consume. Maybe it's allowing yourself to open another PBR or grab another plate of appetizers.
Find a water bottle you love.
Single-use plastic water bottles are so not in right now. Don't risk being that person carrying one around at your next tailgate. Invest in a bottle that will last and make you enjoy drinking.
HydroFlask bottles keep your water cold and come in a variety of sizes and colors. I love that mine has a flip top that makes it easier to drink without spilling.
Swell, Klean Kanteen, and Lifefactory are favorite water bottle brands as well. With so many options, it's easy to find the perfect style and color to rep your team while you hydrate!
Use a water tracking app.
There's a lot to keep track of at a game watching party. Where did you leave your jacket and keys? How many drinks have you had? Which seat has best viewing and socializing options? How much water you've had doesn't have to be one of them.
There are countless free apps for your phone or smartwatch. Just make an entry every time you finish a cup and you'll be set. No more forgetting to count until it's too late!
Whether you're in it for the drama of the game or the excuse to socialize, football season is a fun time of year. Make it even better by staying on top of your water game.

Don't forget to show us how you drink (water) better by tagging @betterdrinkingculture!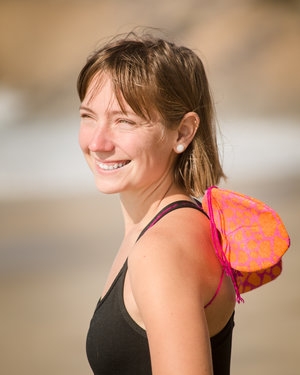 ABOUT THE AUTHOR
Jenn McAmis is a digital nomad who lives with her two rescue dogs in a 1984 Toyota Sunrader camper. She spends most of her days barefoot searching for the next outdoor adventure, drinking too much coffee and dabbling in all things woo-woo. You can follow her journey on Instagram @travelinglovefairy and subscribe to her shenanigans on her website.