It's never a good look to puke in public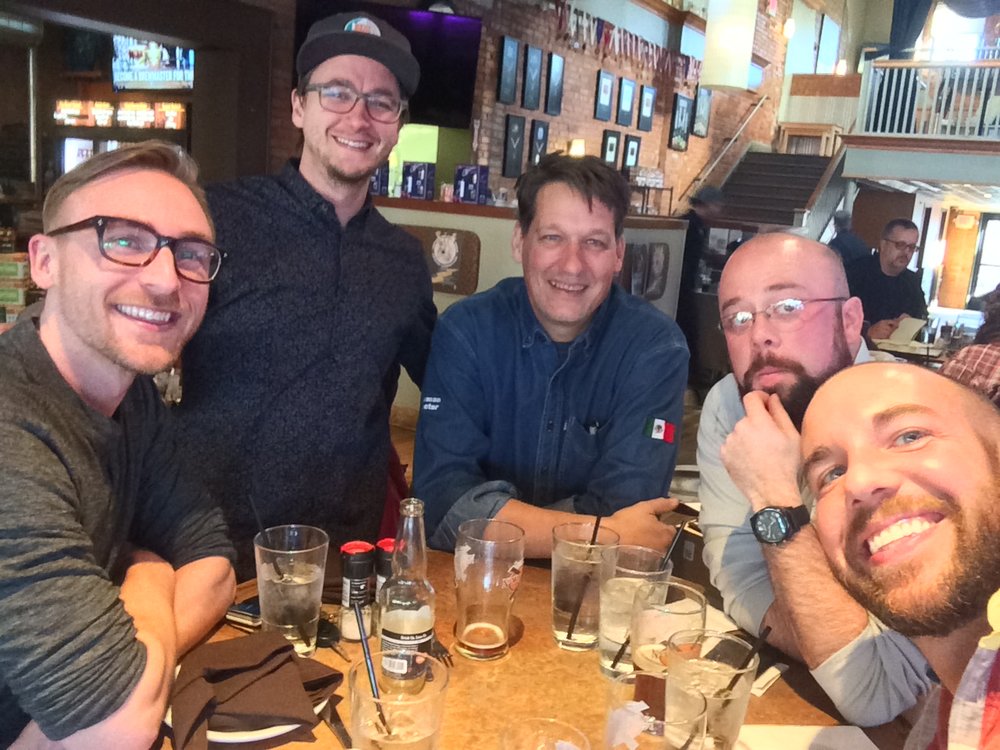 (L-R) Cam, Taylor, Paul, Aaron, J
I celebrated Valentine's Day yesterday with four other dudes and a stack of diapers taller than all five of us combined.
Cam and his dear wife are anticipating their first child this weekend. So, to show Cam a little love, the guys in the office and I surprised him with an afternoon hanging out, complemented with a supply of a couple hundred diapers and wet wipes (c'mon, baby poop?!).
I had to throw an audible on my original plan to go bowling, but we ended up at the OG New Holland Brewing, so win-win. Cam got his diapers, and we got beer. The five of us huddled around a small high-top, and shared some really meaningful conversation. I was the only one at the table, aside from Cam, who has no experience being a parent, although he's already much more qualified than I'm ever going to be. So, I couldn't offer any advice, but I think we both found value in listening to the guys' wisdom.
We hung out for about two-and-a-half hours, and you know what? When I woke up this morning, I remembered all of it. Every nuanced sight, smell, sound, and taste of our time together. I had two beers, enjoyed them both, and walked myself out of the brewery in a straight line all on my own.
When I got home, I liked Cam's Instagram post to the photo I snapped. His caption: "Blessed to hang and work with this amazing crew each day." Feeling's mutual, brotha.
The last time I planned a guys' equivalent to a baby shower was in late 2005, a couple months before my brother had my nephew. I gathered a bunch of his friends and male family members for dinner at my mom's place.
We hung out in my mom's basement, gifted my brother a bunch of fun baby boy-themed toys, and did not guess what types of candy bars were melted between diapers. We did play drinking games, however. The only one I remember was the first one we played: checkers — where the pieces were replaced with shot glasses filled with chilled Goldschläger. Foreshadowing…
Fast-forward to rallying the troops to go out to Mr. B's Roadhouse in Clarkston, MI. I don't know how long we were there before I got us all kicked out. After I threw up on the bar — yes, literally all over the bar — I'd say their security staff was pretty justified in making me leave. It's pretty fuzzy, but if it wasn't for my uncle intercepting security, negotiating on my behalf to escort me out, I wouldn't have been surprised (or could've blamed them) if they bounced my dumb ass out on the pavement.
I ruined the night. I was the buzzkill.
As my uncle was dragging me outside, with my uncontrollable spaghetti legs and all, the last thing I remember of the night was some guy laughing at the puke that streaked down the front of my beige turtleneck sweater (yeah, yeah — I was wearing a turtleneck), and saying to my uncle, "Damnnn! Dude's havin' a hell of a 21st birthday!"
I was 27.